What airport is closest to The Lanktuary?

The Liberia airport (LIR) is between 45 minutes and 1.15 hours away from us, depending on whether you take the main paved road or what's called "The Monkey Trail" (Route 911) which takes you through some river crossings.

San Jose airport (SJO) is about 5 hours away and though there are private shuttles and public buses that go from San Jose Airport to Potrero, you'd need to pay a night at a hotel. So sometimes the small additional expenses of flying into San Jose negate the lower price.
Are there any specific travel requirements due to Covid-19?

YES. There are no COVID testing requirements to enter Costa Rica as I write this (March 2021), but you do need to fill out a Health Pass and proof of COVID insurance. Here is a link to the Health Pass form, and it's also a good idea to check the US Embassy site in Costa Rica to stay on top of any recent changes.

When returning to the United States, you DO need a negative COVID test to board your flight, and we can help you find a local clinic for that upon your arrival. The CDC site is a good option to check flight requirements.

Your COVID insurance must last the length of your stay, and below are some helpful sites to explore:
Should I rent a car during my stay?

Yes. We are off the beaten path up on a mountain, so though we can see the ocean, we're not within a leisurely walking distance of it. Plus, to get to the grocery store, out to restaurants and around town, it's best to have a car so you can have your freedom and not rely on us.

If you rent a car from the Liberia airport, maybe try Kayak to find the best rate. If you'd like to take an airport shuttle (we recommend Eco Trans) and then rent a car once you're here, that's fine. A great option for a rental out of Flamingo is Economy Rental Car.
What sort of meals could I include as part of my stay?

We have a few simple meals we like to prepare and share, and our housekeeper Wendy is an amazing cook, so here are some examples of our go-to meals:

Breakfast ($10, and you may select one of the options below)

An egg on toast with fruit – bread, cream cheese, onion powder, salt & pepper
Gallo Pinto (with or without egg or chicken) – black beans, rice, onion, chile dulce, garlic & cilantro
Arroz con pollo- rice, green beans, carrot, sweet corn, onion, garlic, cilantro, celery, peas, chicken

Snacks ($6, and you may select one of the options below)

Avocado salad (with or without Tuna)- onion, chile dulce, lemon, avocado
Empanadas- made with love from our housekeeper's recipe
Homemade Banana muffins- love & secret recipe from Adam's family recipe
Homemade Cinnamon Rolls- love & secret recipe from Adam's family

Beverages

A protein smoothie (mixed fruit or chocolate/banana/peanut butter) ($4)
A green juice ($3)
Coffee ($2)
Could you stock our apartment with some basic groceries before we arrive?

If you'd like some staples ready for you when you arrive for your retreat in Costa Rica, just let us know and we're happy to stock your kitchen with as much as you want, so you don't have to rush to the store when you arrive, for a $10 service fee. And then we can add the grocery total to your final bill.
Do you have a discount program on your nightly rates?

Yes we do. We provide group discounts if you rent all 3 apartments, and we also have other family discounts or exchange programs. So feel free to reach out to us to see if you qualify for a discount or trade, and please remember it's always nice to respectfully inquire about getting a discount rather than assume you'll get one. Thanks for understanding.
Can you accommodate a group or a yoga retreat with multiple guests?

Of course, we'd love to help you with that. Between having 4 private studio apartments, a private room with a kitchenette and another private studio coming in the Fall of 2021, we'll be able to comfortably accommodate up to 12-15 people when we're at full capacity. So if you have an event, a group or a yoga retreat in mind, please reach out to us and we can discuss how to create a fun, feel good, memorable and affordable experience for you and your guests.
Is yoga included during our stay?

If you're paying the full price per night, yoga is included as part of your stay. However if you have received a discount, then yoga classes are just $7/class (down from $10).
What sort of activities or tours could we do during our stay?

There are so many things to do while you're here, so rather than list them all, below you'll find a link to our friend's company, Costa Rica Wet n Wild. Once you've decided what you'd like to do, send us a list and we can help you organize your itinerary.
What beaches are nearby?

We're blessed to have several beaches near the Lanktuary:

Playa Potrero (3 km)
Playa Penca (3km)
Playa Prieta (3.5 km)
Sugar Beach (6.9 km)
Playa Danta (6.1 km)
Playa Dantita (6.1 km)
Playa Flamingo (6.4 km)
Brasilito Beach (10 km)
Playa Conchal (13 km)
Playa Tamarindo (29 km)
Do you have a guidebook with your favorite hand outs and restaurants?

Yup, we have a guidebook that we can send you before you arrive and it will also be inside your apartment.
Should we include a tip at the end of our stay?

We put in a lot of love and effort into every guest's experience, so a tip is welcomed but not expected.
I'd like to have an almost all-inclusive vacation experience. Can you help us create a customized package for that?

Sure. If you'd like an experience with lodging, breakfast and snacks, yoga, massages, facials, beach / lounge time, and tours, we can help arrange that, for a $20 service fee.

Once we get an idea of what sort of experience you'd like to have, we can send you some sample itineraries and food service options to choose from. And this takes some careful organization, so we do include a small gratuity for that. Then when you'll arrive you'll receive a detailed itinerary so that you can relax and know you're taken care of.
Do you require a deposit before we arrive? And do you have a cancellation policy?

Yes and Yes. We ask for a 50% deposit for your lodging before you arrive, and full payment for your rooms the day you arrive. All other activities, yoga, massages and food can be added to your bill and settled at the end of your stay. You can make your deposit through our payment button. And if you have to cancel within 2 weeks of your arrival, we'll keep 25% and return the rest of the deposit to you. Thank you for understanding this policy that respects everyone's experience.
Is there anything else we'd like our guests to know?

Yes. Please remember that the Lanktuary is our family's home, and we're inviting you to essentially be a part of our Costa Rica life experience while you're here. We'll do our best to be great hosts, and provide you with a wonderful experience, and treat you as we'd want to be treated if we were staying at a friend's place on our vacation. That being said, we'd appreciate the same respectful treatment from you as our guests, so it's a win win for everyone.

And a gentle reminder that we will have a young baby, a toddler, 5 dogs and 2 cats who are living on site with us, as well as other normal Costa Rica wildlife, such as monkeys, racoons, cows, the occasional scorpion, geckos, ants, huge grasshoppers, and frogs. So don't be surprised if you see or experience any or all of these during your visit.
---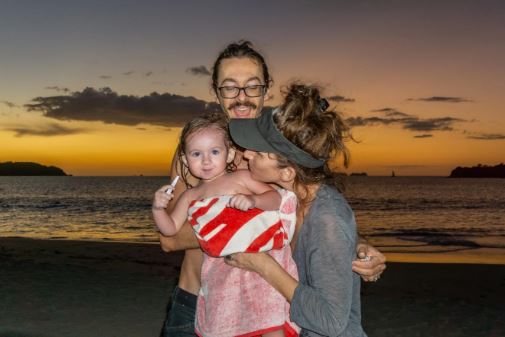 We look forward to having you.
Love,
The Lankas
---